Graduate Program Information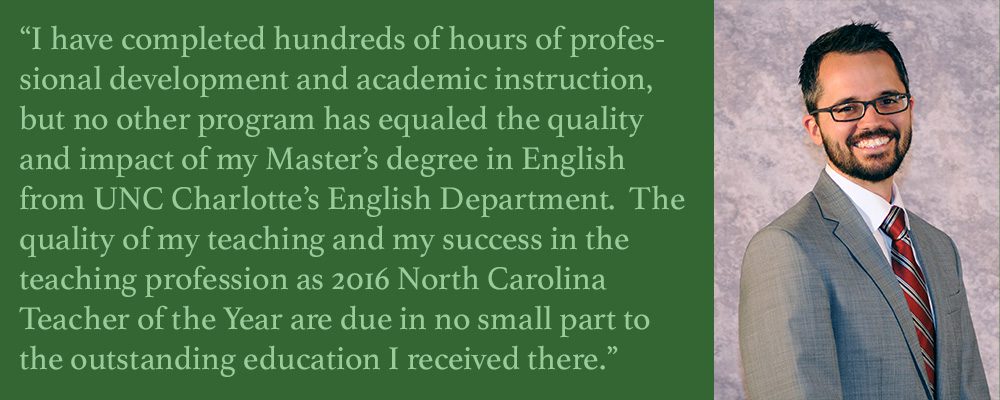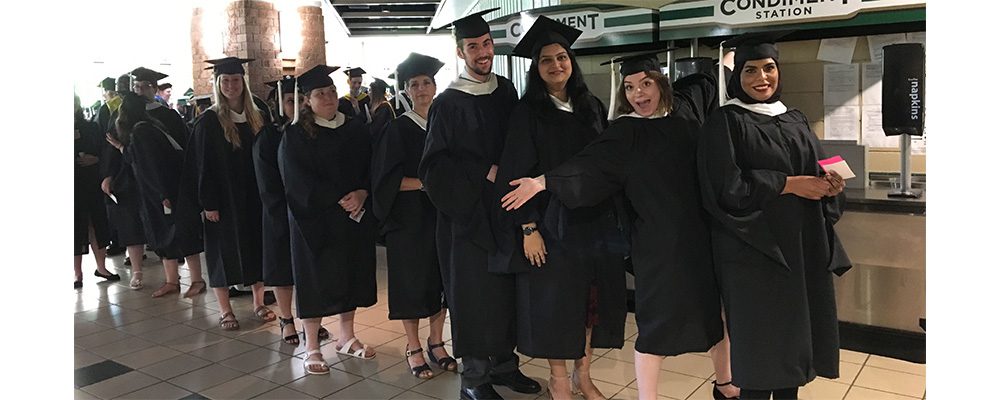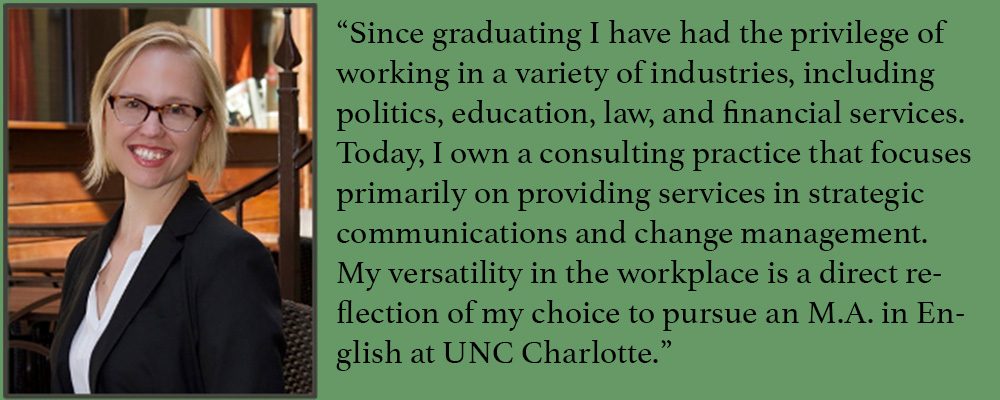 The UNC Charlotte English graduate program offers an M.A. in English, a certificate in Technical/Professional Writing, and a certificate in Applied Linguistics, as well as an English Education strand of the Ph.D. in Curriculum and Instruction. We also have a program that allows for early entry to the M.A. in English.
Please visit our admissions page! Prospective students are encouraged to contact Professor Vetter, the Director of Graduate Studies, at [LVetter @ charlotte.edu] with any questions you may have about the program. Applications for the prestigious Russell M. Robinson II Scholarship are due on March 1. Students are also encouraged to check the Niner Scholarship Portal for other scholarships for which they may be eligible
We offer eight specialized concentrations for students pursuing the M.A. in English. Students can also benefit by pursuing a certificate while focusing on another concentration for the M.A. Another great advantages of the program is that it combines a strong and dedicated faculty with a supportive community of students, resulting in a positive and meaningful graduate education.
UNC Charlotte's graduate program in English has developed a very strong profile not only within the university but with programs and corporations across the United States. Our students graduate to pursue successful careers in commerce and education or to move forward into the very best doctoral programs nationwide. Graduates of the UNC Charlotte masters programs have chosen to teach in public schools and/or community colleges or to work in corporate and non-profits as professional writers or communications specialists. Other graduates have gone on to Ph.D. studies in such prestigious programs as the University of British Columbia, the University of Wisconsin-Madison, UCLA, Brandeis University, the University of Virginia, the University of North Carolina at Chapel Hill, the University of South Carolina, the Ohio State University, the University of Illinois, the University of Maryland, the University at Buffalo, and Penn State.
---
LINKS TO GRADUATE CATALOG
Admission and Progression Requirements and all Program Requirements can be found in the Graduate Catalog. Please see the information below:
Masters
Graduate Certificate