M.A. in English: Technical/Professional Writing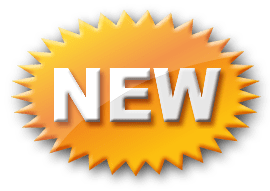 Watch our latest Tech Comm Video!
Do you love writing?
Do you love technology?
Do you love the idea of combining the two?
The Technical/Professional Writing Programs at UNC Charlotte strive to prepare students for careers that combine strong communication skills with technical expertise. As a student at UNC Charlotte, you can explore the relationships among language, writing, and computing technologies through a graduate certificate (technical communication), or a concentration within the M.A. in English.
Each program is specifically designed to prepare you for the challenges you will encounter in today's rapidly changing, technologically global society.
With a Technical/Professional Writing background you can find a career in
computing-related industries, software, and hardware
engineering communication
environmental communication
government
medicine
other scientific or technical fields
As a technical writer, you will be called upon to research, write, test, design, and edit technical information for a variety of audiences, including
software and hardware documentation
grants and proposals
electronic multi-media presentations
websites
training materials
In addition to strong communication skills, technical writers must know a variety of computer applications, including word processing, web design software, page layout applications, online help authoring software, and hypertext mark-up language (HTML).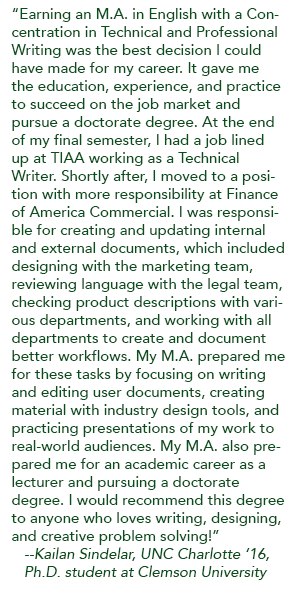 According to the Society for Technical Communication (STC), North Carolina's Average Annual Wage for Technical/Professional Writers was $77,000 for 2018. Experienced writers and editors often choose to work as independent contractors and consultants.
Technical/Professional Writing Graduate Faculty include
If you have additional questions or require further information, please email Prof. Greg Wickliff, Program Advisor: gawickli@charlotte.edu, or call 704‑687‑0617.