M.A. in English
Explore your passion for literature, writing, and language in a collaborative environment! The English Department offers graduate students opportunities to work with faculty whose scholarship in language, literature, and writing has won recognition at the national and international level.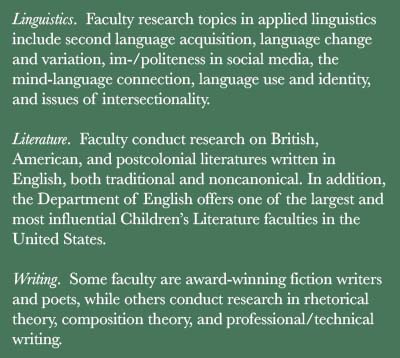 All graduate students are members of the English Graduate Student Association (EGSA), a vibrant and inclusive community that provides opportunities for leadership and professional development as well as personal growth and socializing with your cohort. You will be invited to participate in the academic, social, and intellectual life of the English department, including EGSA social events, fundraisers, and an annual student-run conference that attracts master's and doctoral students from across the southeastern region.
Click here for information on admissions. A limited number of teaching assistantships are available to qualified full-time applicants; assistantship offers carry a tuition (but not fee) waiver. The deadline is March 1; simply check the box for "assistantship interest" on your application form. Students in their first year who plan to do the thesis option may apply for the Ruff Graduate Research Award by April 14; this award offers a stipend for work on the thesis the summer before taking thesis hours. Applications for the prestigious Russell M. Robinson II Scholarship are due on March 1. Students are also encouraged to check the Scholarship Portal for other scholarships for which they may be eligible.
M.A. students in the UNC Charlotte graduate program have a wide array of concentrations available to them as the consider the areas of study they want to pursue for the M.A. in English:
The English Department also offers a Certificate in Technical/Professional Writing and a Certificate in Applied Linguistics; credits can be doublecounted if students are dually enrolled in an M.A. and a certificate program. Other popular certificate programs among our students are the certificate in Gender, Sexuality, and Women's Studies and the certificate in Africana Studies.
For more information, please contact:
Professor Lara Vetter
Director of Graduate Studies
Fretwell 280G
704‑687‑0616
lvetter@uncc.edu