M.A. in English: English for Specific Purposes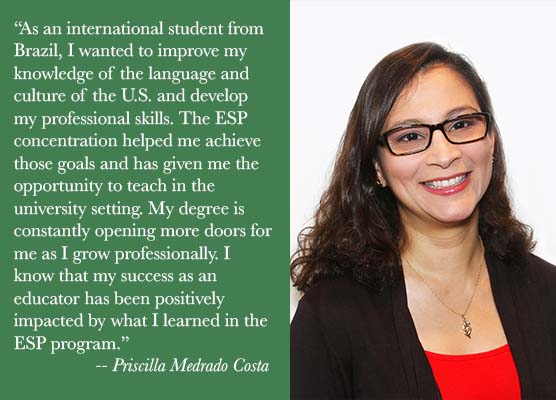 The English for Specific Purposes (ESP) Concentration prepares graduate students to teach English for Occupational Purposes (EOP) or English for Academic Purposes (EAP) as well as English as a Second Language (ESL) in privately run K-12 schools.
This program prepares individuals to design and teach specialized courses such as English for business, English for law, or English for health service purposes. Students will learn about the theoretical foundations of ESP, doing research in ESP, and ESP pedagogy and materials. In the process, they will gain practical experience designing their own materials and teaching in an academic or vocational setting.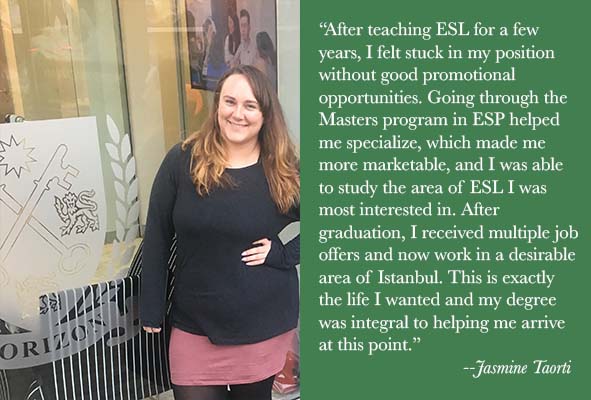 There is a growing demand for ESP teachers in the U.S. in part because of the growing number of adult immigrants who want to take English classes that are specific to their occupational and/or academic goals.
With the continued prominence of English in professional and academic contexts around the world, there is a demand for instructors who can meet these international needs. In addition, students graduating from this program will be able to teach English language learners in private K-12 schools.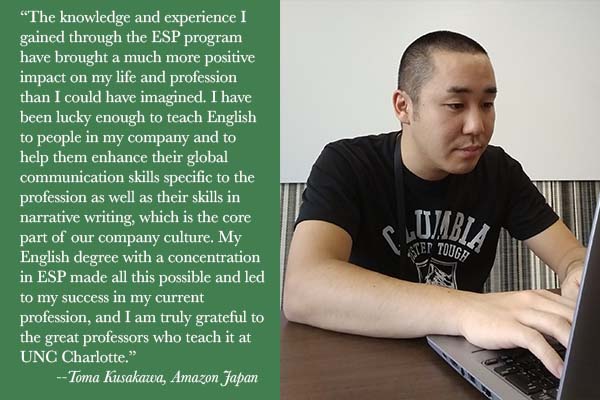 More information about requirements for the concentration can be found in the catalogue.
Recent research by M.A. students in the ESP concentration:
Pre-MBA English for Specific Purposes Course
TOEFL and IELTS writing task training course
English for Tourism and Hotel Industries in Jordan
ESP Portfolio: ITA Communications Course
Silence into Talk: Preparing Japanese Students for Academic Life at an American University
For additional information, please contact:
Professor Elizabeth Miller
250A Fretwell
Tel.: (704) 687-0171