M.A. in English: Children's Literature

Our Children's Literature Concentration within the English MA is a vibrant and increasingly popular program. Our courses deal with a variety of children's literature, including British and American children's literature, picture books, and young adult literature. We also explore a range of approaches and emphases related to the study of children's literature. These include cultural studies, diversity, gender, and the history of children's literature.
Students can choose to take a comprehensive exam or to write a thesis on a topic of their choice at the end of the program. The exam offers the chance to acquire a breadth of knowledge in the field. The thesis involves in-depth research in children's literature with the help of faculty mentors.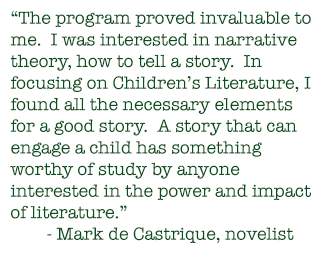 Both children's literature and childhood studies are growing fields of study and current sites of new academic inquiry for scholars and theorists pushing disciplinary boundaries. Our graduates have pursued their interests in a variety of fields. Some go on to doctoral programs in children's literature, some have worked as teachers, librarians, or creative writers. Our students have published essays in the field and have presented papers at regional and national conferences.
The Children's Literature program at UNC Charlotte has been a longstanding one. Our faculty publish in many aspects of the field. They are also actively engaged in national organizations. The conference of the Children's Literature Association has been held here three times. Just as important, our faculty have a profound love of the field, and are committed to working closely with students.
---
See full course descriptions here.
Consult our website for information about admissions, advising, and exam and thesis options.
Information about the Children's Literature Graduate Organization and some resources in the field of children's literature can be found here.
---
Children's Literature Graduate Faculty