M.A. in English: Literature
The Masters in Literature combines a broad grounding in the elements of literary study with the chance to pursue in-depth research in an area of interest through an optional thesis. Students in our program engage with diverse theoretical perspectives and cultural contexts, broaden their knowledge of literary history, and develop their skills in close reading, interpretation, and critical writing. Our annual graduate student conference offers students a chance to present their insights about literature in the form of conference papers, before an interested audience.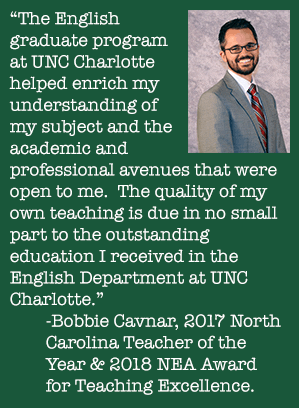 The graduate faculty in literature are active scholars who publish widely in their fields; their publications include articles in scholarly journals, edited collections, edited editions, and numerous monographs. They are committed to researching and teaching a variety of national, global, and ethnic literatures in English, including British, American, and Anglophone literatures; they have developed expertise in literary history, diversity and gender studies, cultural studies, and a range of other theoretical perspectives.
Our graduates' strong writing skills have proved to be assets in fields such as business, journalism, law, and publishing. Some students completing the Masters concentration in Literature go on to pursue Ph.D Studies in English at other institutions, while many others teach in secondary schools, both public and private, and community colleges.
Consult our website for information on admissions, advising, and capstone experiences.
Requirements for Students Pursuing the Concentration in Literature
The Literature Concentration requires a total of 36 hours (12 courses), which includes at least 15 credits in literature:
ENGL 6101 Introduction to English Studies
ENGL 6160 Introduction to the English Language
3 hours of literary theory-intensive coursework
3 hours of writing or rhetoric courses
15 hours in literature, including some historically-oriented coursework, coursework in a range of national and global literatures, and at least one pre-1800 course
9 hours of electives (which may or may not include a thesis)
A comprehensive examination
The Literature Faculty: